Jane's Artist Background and Statement
Affordable Realistic Fine Art Oil Paintings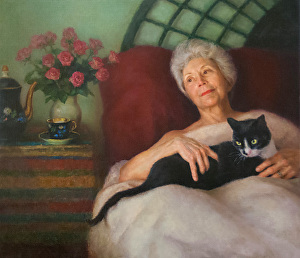 Jane's second career as a professional artist began in 2000 after retiring from a challenging career as a public health physician. Her goal is to paint beautiful artwork that others enjoy, find meaningful and treasure. Although her special joy is painting portraits and figurative pieces she also paints landscapes and still life. Human and animal portraits are usually painted from photographs that Jane takes or acceptable photographs a client provides for a commission. Oil is her preferred medium.
Some exhibit locations include: First Thursdays at Orlando Museum of Art, Lakes Wales Art Council, Maitland Art Center, Mount Dora Center for the Arts, Polasek Art and Sculpture Museum, Santa Fe College, Steinway Gallery, The Gallery at Oak Hammock at University of Florida, Thomas Center in Gainesville, Punta Gorda Visual Arts Center, Winter Park University Club, and regional outdoor art festivals such as the Downtown Gainesville Art Festival and Tioga Center Winter Art Festival.
Some of her many awards, include first place at the Mount Dora Center for the Arts juried portrait show; Best of Show and People's Choice at the Sanford Seminole Art Association annual shows; first place at Creative Spirit Gallery; first place at Gainesville Fine Arts Association; Award of Merit at the Winter Fine Art Fair at Tioga, and many others.
Art studies include classes and workshops with Florida as well as nationally known artists including Anthony Ackrill, Carolyn Anderson, Margaret Baumgartner, Clayton Beck, Thomas Buechner, Daniel Greene, Greg Kreutz, David Leffel, Marvin Mattelson, Sheri McGraw, Nelson Shanks, Romel de la Torre and others.
Jane is a member of the Gainesville Fine Art Association, Oil Painters of America, Portrait Society of America.
ARTIST STATEMENT
The painting process begins with a composition I feel compelled to paint through an emotion or memory and one that hopefully engages the viewer in a conversation of what the artwork suggests or means to them. My oil paintings are done in a realistic manner using multiple paint layers. My process begins with a drawing either on a sketch pad or directly onto the painting surface. I often research from my various resources how great artists did similar types of painting. Each painting is a new adventure, finding the best combination of composition, values, edges and color. Painting is a gratifying challenge for me. It is highly rewarding when people express pleasure viewing my paintings.