My passion for art began during childhood when I enjoyed drawing and painting. However, my medical education led to a challenging career as a public health physician and my artistic goals were postponed until I retired in 2000. Since then I have been working on my second challenging career--as a professional artist.
I strive to capture the spirit and realistic likeness of each subject and to create oil paintings that surpass expectations. My preferred medium is oil because of its flexibility and luminosity. Although I paint still life and landscapes, my special joy is painting portraits of humans of all ages and animals as well as figurative pieces.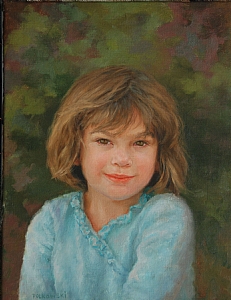 Painting is my way of communicating visually, personally and spiritually with those who view my artwork.

I do both commissioned and noncomissioned work. When I accept a commission for a portrait, my clients understand that they will receive an extraordinary amount of attention to ensure that the portrait exceeds their expectations. Portraits are usually painted from photographs that I take or from acceptable portraits that the client provides. The client is involved in the selection of poses and expressions that are most pleasing. Prices are based on the canvas size and complexity of the composition.

The challenging creative process of developing a painting is very enjoyable. I find it highly rewarding when viewers are pleased with the effect that my paintings have on them.

My work has been exhibited in several local and regional locations including Casselberry Art House; Comma Gallery; Downtown Festival & Art Show, Gainesville, Fl; First Thursdays at the Orlando Museum of Art; Gainesville Fine Art Association Art Festival at Thornebrook; Lake Wales Art Council; Maitland Art Center; Mount Dora Center for the Arts; Osceloa Center for the Arts; Polasek Art and Sculpture Museum; Punta Gorda Visual Arts Center; Ridge Art Association; Sanford Seminole Art Association; Santa Fe College; Steinway Gallery (Maitland, Fl); The Gallery at Oak Hammock at University of Florida; Thomas Center in Gainesville; Visual Arts Center in Punta Gorda; Winter Fine Art Fair at Tioga; and a one woman exhibition at the Winter Park University Club.


It has been rewarding to have won many awards, including First Place at the Mount Dora Center for the Arts juried portrait show, Best of Show and the People's Choice awards at the annual shows of the Sanford Seminole Art Association, First Place at Creative Spirit Gallery, Second Place and Caroline Ives Awards at the Ridge Art Association shows; Award of Merit at the Winter Fine Art Fair at Tioga, and others.

My professional art studies have included working with a number of local artists including Ralph Bagley and Stacy Barter as well as nationally-recognized artists Margaret Baumgartner, Clayton Beck, Thomas Buechner, Daniel Greene, Greg Kreutz, David Leffel, Marvin Mattelson, Nelson Shanks, and Romel de la Torre.
ARTIST STATEMENT
The painting process begins with a composition I feel compelled to paint through an emotion or memory and one that hopefully engages the viewer in a conversation of what the artwork suggests or means to them. My oil paintings are done in a realistic manner using multiple paint layers. My process begins with a drawing either on a sketch pad or directly onto the painting surface. I often research from my various resources how great artists did similar types of painting. Each painting is a new adventure, finding the best combination of composition, values, edges and color. Painting is a pleasurable challenge for me. It is highly rewarding when people express pleasure viewing my paintings.

Professional Memberships

Gainesville Fine Art Association
Oil Painters of America
Portrait Society of America
Women Painters of the Southeast